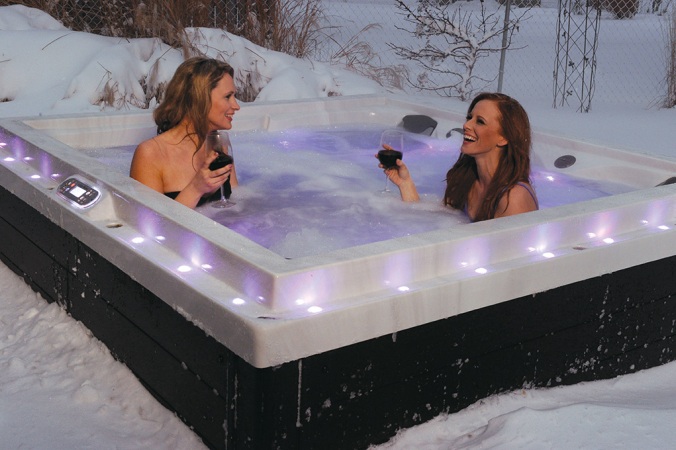 As much as we don't care to admit it, fall is here and winter is just around the corner. While you shouldn't hesitate to get out and enjoy as much of this beautiful fall weather as possible, it's also essential to start chipping away at those winter preparations.
One of the exciting parts about winter is that, if weather permits, you're likely to start utilizing your hot tub more than you did during the warm summer months. However, freezing temperatures don't always allow for winter hot tub use, and if you don't want to take any chances, you'll have to winterize your tub to keep it from sustaining permanent damage.
At RnR Hot Tubs, our team prides itself on doing much more than simply helping clients purchase a new hot tub. We want to give you the knowledge you need to properly maintain your tub once it's installed so that you can maximize its lifetime.
While many long-time hot tub owners are well versed in the techniques of shutting their tub down for the winter, new owners may not be entirely comfortable with the winterization process. If this will be your first time attempting to winterize your hot tub, here are a few simple tips we hope you'll find helpful:
Open Jets and Drain
Begin by shutting down all control valves, including the water supply. Then open all jets and drain water from the tub using a garden hose or submersible pump. Next, disconnect the hot tub from its' power source, switch off the water heater, and flip the power button, as well as the tub's circuit breaker, to the 'OFF' position.
Clear the Lines and Remove Drain Plugs
Proceed by removing the tub's cabinet panel, which is located in front of the equipment compartment. Open the spigot near the main pump and drain the water from this location. You'll want to leave the spigot open through the winter.
Now use a wet vacuum to remove all remaining water from the lines. Take drain plugs out of water pumps and let water drain from here as well. After you're certain all water has been drained, replace drain plugs for the water pumps.
Turn on the Blower
Next, replace the cabinet panel and flip the circuit breaker back on. Flip on the blowers to clear water from air channels and pipes. Remove fittings and use the wet vacuum to clear water from them. You may need to make use of a sponge to be sure you've eliminated all water from fittings. Now use a cotton towel to dry both the interior and exterior of the tub.
Removing all water is essential, as any leftovers will freeze in the cold, which can result in cracked lines that require expensive replacement. Once you're confident that you've done so, place the cover back on the tub and close it. If you'd like to make sure no excess dust, dirt, or insects find their way into the tub during the winter, you may consider covering it with a tarp before you feel confident about the completion of the winterization process.
Trust the Pros
If you're concerned about missing a step in the winterization process, you may benefit from enlisting the services of a professional team that's experienced in preparing hot tubs to withstand the elements of winter. If you'd like to discuss the possibility of an RnR expert closing your tub down for you, please don't hesitate to give us a call at 403-203-0860 today!