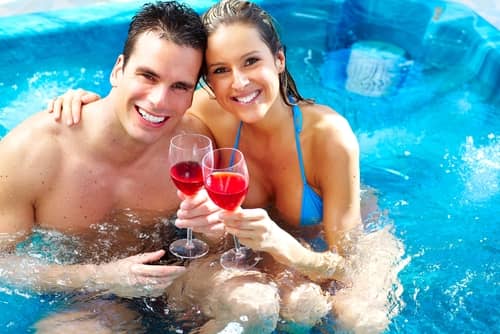 Once you have a new hot tub installed in your home, it's time to invite a few friends over to enjoy your latest addition. As the sun begins to set earlier and evenings become a bit chillier, your new hot tub is a perfect place to relax and enjoy the sunset.
Hosting a hot tub party is a fun proposition, but you're also sure to have a bit of a mess on your hands when the festivities conclude. While this shouldn't detract you from inviting friends to enjoy your new hot tub, you must consider how you'll effectively clean up after your guests have all left.
Keeping your hot tub clean is a matter of regular maintenance. Making sure to maintain the correct chemical balance is important for the safety of everyone that's uses your new tub on a regular basis. In the worst case, neglecting to clean your tub for too long results in a buildup of slimy film that can contain mold, bacteria, and other potentially hazardous microorganisms.
At RnR Hot Tubs, we feel that our job goes beyond just selling our clients a hot tub that will meet their specific needs. We're also concerned about helping new tub owners learn to properly clean and care for their hot tub. Here are some tips for keeping your hot tub clean after, and even before, a party:
Pre-Clean
You should always do a brief clean and check before you host a party in which your hot tub will be a focal point. Make sure the pH is between 7.4 and 7.6. Remove the filter and give it a thorough cleaning so it can keep up with the heavier traffic. You should also wipe down the entire spa, inside and out, and vacuum to remove dirt or grit. This will help you keep the appearance desirable for your guests.
Post-Party Safety Check
The morning after your hot tub party is a great time to perform a safety check to make sure nothing was damaged the night before. Check all drain covers to make sure they are still securely attached. Examine the filter to see if any large debris has been caught, and certainly check for glass that might've fallen to the bottom of your tub if anyone broke a bottle nearby during the party.
Levels Test
After a party you should also check chlorine and pH levels, especially if anything was spilled in the tub during the evening. Chlorine levels should typically fall between 3 and 5 ppm, and you should follow the instruction on your chlorine container if this isn't the case. As mentioned earlier pH levels should be in the mid 7's, and a quick test should reveal whether the pH has either dropped or risen significantly overnight.
Drain and Refill
In the event of an especially rowdy get-together, your tub might be so dirty that it needs to be completely drained and refilled before you can use it again. This isn't necessarily a bad thing, as it signals you probably had a good time the night before, but you do want to be sure the tub is safe for future use.
If you're planning on draining the tub in the near future anyway, now might be the perfect time to host a hot tub party. This way you're not going out of your way to drain and refill your tub when you just did so a week or two before.
Don't Worry, Just Party!
When hosting a hot tub party, a little planning goes a long way towards minimizing damage to your tub. It also helps to set clear rules and expectations that define what you expect of your guests when they're using your spa. If you've recently hosted a party that left your tub exceptionally dirty, and you need professional assistance, please don't hesitate to give the team at RnR Hot Tubs a call at 403-203-0860 today!