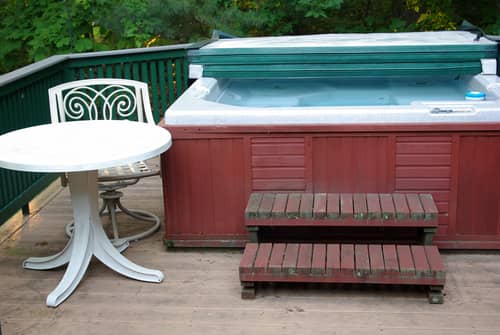 As the school year approaches, it can be tough to leave behind the relaxed, free-flowing way of life that's typical of the summer months. Seemingly out of nowhere, there are many more duties and responsibilities on your plate, and feeling a bit stressed about getting everything done is very common.
During this time of year, it becomes increasingly important to give yourself a space to unwind and let the worries of the day drift away, even if it's for just an hour at a time. Your hot tub area can be the perfect focal point for your very own rejuvenating sanctuary.
At RnR Hot Tubs, we strive to familiarize our clients with the many physical and mental health benefits of owning a hot tub. We believe every homeowner should design a sanctuary space surrounding their tub that gives them a place to find peace and relaxation whenever needed.
The fall, "back-to-school," season is always one of the more stressful times of year for most parents. If you're feeling a bit overwhelmed by the task of preparing your kids to go back to school, here are a few suggestions designed to help you create a fall sanctuary surrounding your hot tub:
Visuals
If you're designing the décor for an indoor hot tub space, tranquil blue or aquamarine can create an incredibly soothing atmosphere. Green is typically used in spaces dedicated to healing and revitalizing the body and mind, while those wishing to design a clean, pristine environment use white quite often.
Lighting is also an important consideration. In an indoor spa space, try to let in as much natural light as possible by hanging sun catchers in windows and opening shades or curtains completely. If your spa is outdoors, consider positioning the tub to optimize your view, or plant trees and shrubs nearby to create a natural privacy barrier. 
Sounds
Sounds are incredibly important when it comes to eliminating distractions during your spa experience, regardless of whether your tub is indoors or on an outdoor deck. Some tubs are equipped with a fountain or waterfall, and there are very few sounds that are as powerfully relaxing as running water. If your life has been particularly hectic, you might even welcome a few moments of peace and quiet without too much outside noise. 
Smells
Soothing aromas go a long way towards helping you relax in your spa. At RnR Hot Tubs and Spas we sell aromatherapy products specifically designed for use in a hot tub. You simply squeeze a few drops into the water, sit back, and breathe in the fresh scents deeply. If you don't go this route, you can always position your preferred variety of incense close to your tub to create a desirably scented atmosphere. 
Natural Elements
Many people's lives are so disconnected from nature today that it can be incredibly soothing and rejuvenating to find complete relaxation in a natural setting. If your spa is outdoors, you're not likely wanting for natural elements. For indoor spa areas, consider finding a few potted plants designed to survive in such an environment, provided the area gets enough regular light. You may also use dried plants that don't require much light or regular water, such as potpourri.
If you collect shells, stones, or larger rocks that attract your attention during your travels, use these around your hot tub space. These kinds of items can be incredibly powerful memory triggers that help you recall times in your life when you've felt complete joy and utter serenity.
Need Suggestions? Just Ask!
At RnR Hot Tubs, we know that creating a soothing spa environment requires much more than simply purchasing the right hot tub. If you're struggling to create your own fall spa sanctuary, please don't hesitate to give us a call at 403-203-0860 for some expert tips and opinions today!