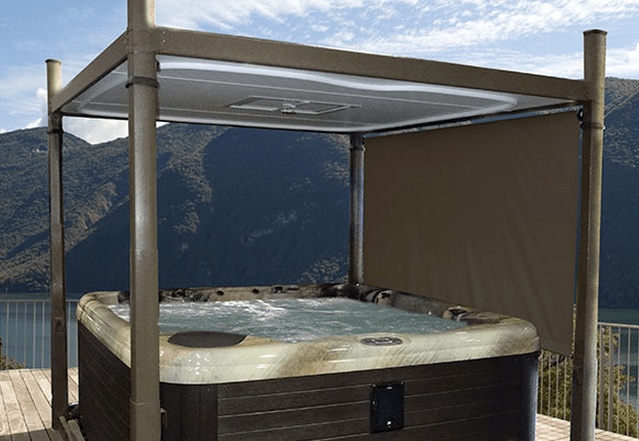 In a big city like Calgary, there's something special about being able to hide away in your own little paradise. So many of our customers love being able to slip into their spas and forget about the world. And we'd like to introduce you to a product that makes leaving the real world behind that much easier.
Privacy in Seconds.
The covana hot tub cover is much more than just an highly energy efficient cover. With the turn of a key, your cover automatically lifts from the hot tub to become the roof of a gazebo in under half an minute. If you want even more privacy than the roof provides, retractable screens can easily be adjusted up or down to provide you with the perfect balance of light, a view of your home, and privacy.
Canadian Quality.
One of our favourite things about Covana is that it's Canadian made. To us, buying a Canadian product means a lot. It means you can trust the materials to be durable and safe to use. It means that you'll actually be able to get ahold of customer service and support if you need it. It means that you're helping to provide fellow Canadians with jobs. Plus, this is one hot tub cover that you know can handle snow, wind, and the Alberta winter. And the Canadian touch goes beyond just being able to handle hundreds of pounds of snow; with Covana, you can mount your control switch in your home. So in December, you can have the Covana lift automatically while you stay warm in your kitchen.
Energy Efficient.
Covana isn't only great for providing a quiet, intimate place for a soak, but it's also one of the most energy efficient hot tub covers available. With an R-21 insulation value, you can expect Covana to reduce the cost of heating your spa by up to 30%. And because the cover securely locks onto your hot tub, Covana also prevents the evaporation of water and chemicals.
If you're purchasing a new spa or otherwise on the hunt for the best hot tub cover, we can't recommend Covana enough. In fact, we encourage you to come down to RnR hot tubs today and see what all the fuss is about! Once you see this sleek, Canadian-made product for yourself, you'll understand why pretty much anyone would recommend this cover to a friend.