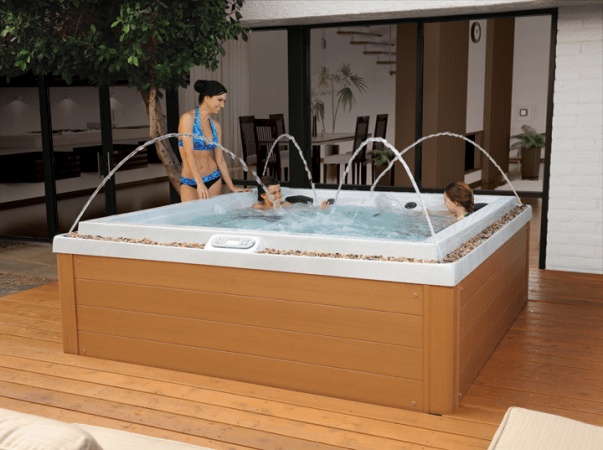 If you haven't been making use of your hot tub during the winter months, it's nearly time to start getting it ready for spring. We know it can be difficult to summon the motivation required to get out of a hot tub when the temperature is in the single digits, but as it warms up you might find yourself more and more inclined to relax and rejuvenate in your hot tub.
At RnR Hot Tubs, not only can we help you find the brand new hot tub that's perfect for your outdoor patio or deck, but we can also help you repair issues with an existing hot tub or simply perform routine seasonal maintenance for you.
If you're thinking that the weather is beginning to be warm enough to justify use of your hot tub again, here are a few important tips to help you get your tub ready for spring: 
Drain, Clean, and Refill 
Even if you didn't elect to winterize your hot tub, if you haven't given it much attention in the past couple months now is a great time to drain all the water entirely. While your hot tub is completely empty, don't miss this opportunity to give it a thorough cleaning from top to bottom.
When cleaning the surfaces of your hot tub, make sure to utilize a hot tub surface cleaner specifically formulated for the purpose. This can also be a great time to give your spa cover some attention. A thorough scrubbing of your hot tub cover will ultimately help to prevent any buildup of mold or mildew.
After you're refilled your hot tub to the desired level, allow it some time to warm up to your specified temperature before checking the water chemistry to make sure all chemicals are in proper balance. Make use of a water test kit to assist in this process. 
Check Instruments 
When your hot tub is successfully refilled and the water is chemically balanced, it's time to make sure all equipment and instruments are still functioning properly. Cycle through all jets and pumps to make sure that nothing is in need of an immediate repair.
If you do find something not working, as it should, now is a great time to have any necessary repairs done. After all, you don't want to wait and prolong the amount of time that you're stuck without a functioning hot tub. 
Install a New Filter 
If it's been several months since you've used, or even paid any attention to, your hot tub, then it might be prudent to replace the filter. If your filter was relatively new, you might get away with simply spraying it and ridding it of any clogs or build up. Most filters typically last about one year with proper care. 
Have it Inspected 
All other things aside, springtime can be the perfect occasion to have a certified hot tub specialist swing by your house to perform a thorough inspection of your hot tub. At RnR Hot Tubs, our specialists are more than qualified to inspect your hot tub and help you get it back in proper working condition.
If you'd like to have one of our trained specialists perform an inspection on your hot tub, please don't hesitate to give the team at RnR Hot Tubs a call at 1-403-203-0860 today!