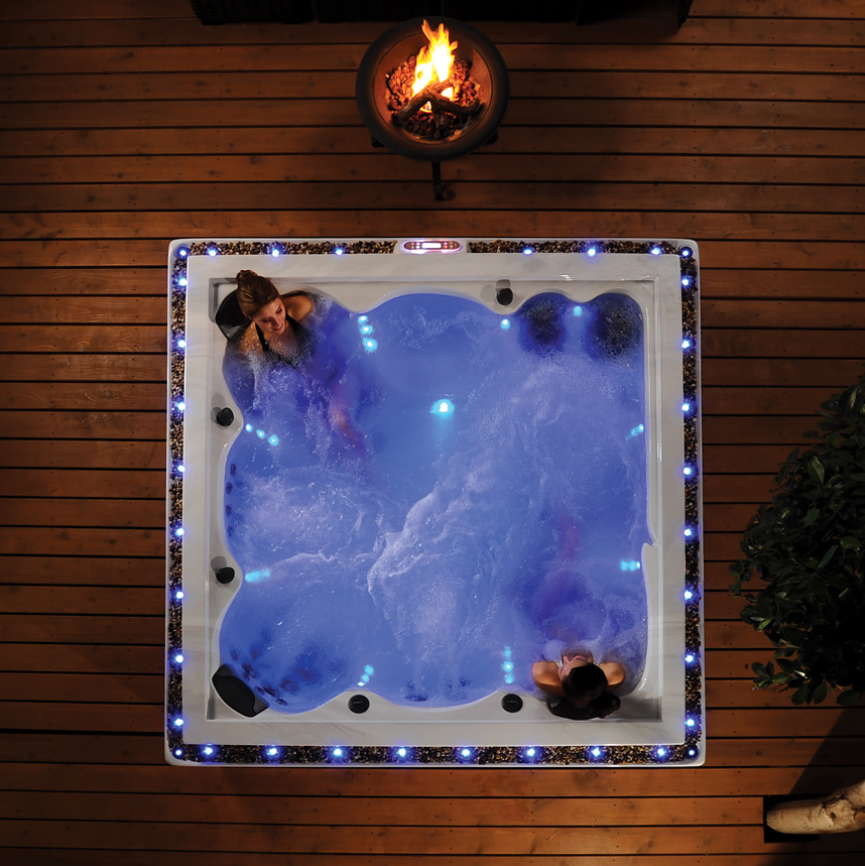 Buying a hot tub is an exciting adventure! It's fun to find and choose the perfect spa for your backyard. How many jets do you want? What kind of lounge seat do you prefer? What size and colour of hot tub do you favour? Are you interested in a foot massager, steps, or a handrail? What about a built-in stereo system and/or Wi-Fi? Do you want water toys, games, and/or aromatherapy products? Most people consider their budget; what they can afford to pay for this fabulous luxury. However, many people forget to consider the running costs. How much electricity does a hot tub use? How much does it cost to run a hot tub?

How much electricity does a hot tub use per month?
The majority of energy used by a hot tub goes into heating and circulating the water, with a small amount of power used for lighting. Hot tub heaters draw between 1500 and 6000 watts, depending upon the size and model of the heater. The pump draws approximately 1500 watts. In general, a hot tub uses between 3.5 and 6 kWh of electricity per day. A kilowatt of energy in Alberta (in 2023) costs between 20 and 33 cents, making the cost to operate a hot tub between 70 cents and $1.98 per day. This translates into a cost of between $21.00 and $59.00 per month.

How much electricity does a hot tub use per year?
If a hot tub uses between 3.5 and 6 kilowatts of electricity per day, the yearly cost of operating a spa is somewhere between $255.00 and $723.00. The exact cost to operate your spa will depend upon the make, model, size, age, features, the quality of your cover, the weather conditions where you dwell, and how often you use your hot tub. It will also be affected by the price of electricity in your area. Older hot tubs tend to be less energy efficient and larger hot tubs take more energy to heat. High-end spas are often higher in initial price but are more energy efficient, saving you money on your power bills.

How much electricity does a hot tub use in winter?
The cost to heat your hot tub rises in the winter as the cold air forces your heater to work harder to maintain the water's high temperature. While low-end hot tubs don't have the features to keep out the cold without causing a big spike in your electric bill, quality-built hot tubs are able to stand up to the harshest weather with a minimal increase in energy costs. A well-built, high-quality hot tub with a base pan, dense insulation, and a thick, fitted cover is your best bet for locations with a cold winter. If you're unsure how much the cost to heat your spa will increase in winter, speak to a local retailer for guidance. They have the knowledge and experience to help you choose an energy-efficient hot tub suited for your location.

How can I reduce the electricity use of my hot tub?
There are ways to minimize the amount of electricity it takes to heat your spa.
Purchase an energy-efficient hot tub

: To lower the monthly operating costs of your spa, invest in an energy-efficient model. If you're looking for an energy-efficient hot tub, consider a spa from

American Whirlpool, Vita Spas,

or

Maax Spas. Their intensive research and development provide their customers with energy-efficient spas. These manufacturers pay close attention to detail and are dedicated to building the best possible hot tub. Their products have steel frame construction, a molded bottom pan, a northern exposure insulation system (composed of a unique 3-layer thermal structure), a convection barrier, and a lifetime guarantee against cracking, shifting, and mould. The following are ways that these companies provide energy efficiency:



Three-layer Northern Exposure insulation system that ensures the energy created by the hot tub stays in the hot tub.


Thermo lock: Built like a thermal pane window, American Whirlpool, Vita Spas, and Maax Spas trap air for heat insulation. The spa is lined with reflective material, creating an infrared thermal barrier for efficient heat and reduction of energy usage. The heat generated by the pumps and other equipment is reflected back to the spa and absorbed, helping maintain water temperature and improving energy efficiency.


BLUEMAAX™: American Whirlpool, Vita Spas, and Maax Spas feature eco-friendly BlueMAAX® insulation. Made from recycled natural fibre, this insulation contains no chemical irritants and is treated to prevent mould and mildew growth as well as pest infestation. It's also fire retardant and highly energy efficient.


3M Thinsulate™: In addition, the entire spa exterior (just inside the cabinetry) is wrapped in industry-leading 3M Thinsulate, the same incredible material you'll find in quality winter wear like jackets and gloves.


Lifetime insulation Warranty: The insulation system in every American Whirlpool, Vita Spa, and Maax Spa is warranted to maintain the same insulation value it had at the time it was manufactured, for the life of your ownership. A high R-value (a measure of how well the insulation prevents heat loss) and Appliance Grade™ construction allow a technician to service the spa and bring it back to factory specifications in your backyard.



Purchase a quality hot tub cover: Make sure you get a premium-grade, strong, durable, cover made to insulate the spa. The cover should fit snugly to keep cold air out and warm air in. It should be tailored to fit your specific hot tub and have a high R-Value.


Keep your hot tub in good working order

: If your spa is operating efficiently, it will use the minimum amount of electricity possible. Some dealers have

inspection plans

to assist in keeping your hot tub in good working order.
Thinking of buying a hot tub? Worried about how it will affect your monthly electric bill? Not all spas are created equal, so do your research. You can't go wrong with a spa from American Whirlpool, Vita Spas, or Maax Spas. They use intensive research and development to bring their customers energy-efficient products.
Looking for an energy-efficient hot tub to reduce your heating costs? Contact Calgary-based RnR hot tubs and spas. We carry a full line of hot tubs and accessories. Call (403) 203-0860 or fill out the contact request. RnR provides comprehensive service, expert knowledge, a wealth of field experience, and the best products in the industry to help you maintain your hot tub/swim spa for years of enjoyment. RnR is Alberta's premier hot tub/swim spa store specializing in high-quality, energy-efficient spas from American Whirlpool, Vita Spas, and MAAX Spas.