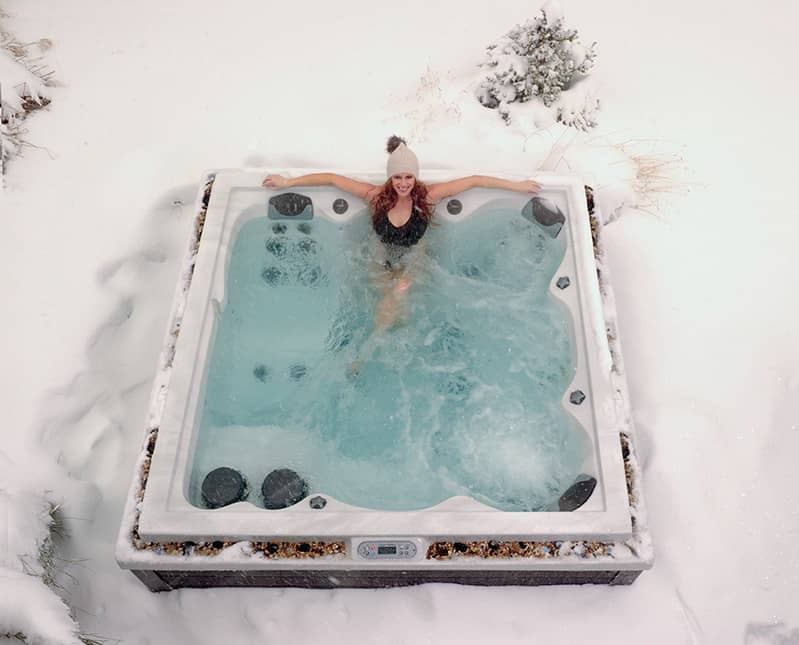 Oh the weather outside is frightful, but your spa is so delightful. And since we've no place to go, let it snow, let it snow, let it snow.
The fresh New Year energy is contagious for most Canadians, but sometimes the long winter and lack of vitamin D can have us feeling down. If you've been struggling with the continuous chilly months, here are three ways a hot tub might help you feel better!
Health Benefits of Hot Tubs.
Many Calgarians hope to get fit and healthy in the new year. Many of us sign up for gyms or try to find a running group, but these forms of exercise don't seem to work all that well for the majority of Canadians. It's tough to work them into our schedule. Commuting to and from the gym can be frustrating, and it can be intimidating to learn how to use all the weird machines in front of an audience of gym fanatics annoyed that you've infringed on their territory. But many forms of exercise, including aquatic yoga and swimming, can be done in your hot tub from the comfort of your home. The Calgarians we've talk to love being able to get their workout done at home whenever they can squeeze in the time.
Leisure Benefits of Spas.
Canadians are working more and more, and it can be hard to find an affordable activity to just recentre yourself. It's important to take time for yourself to reconnect with the people that matter most to you. Your hot tub offers the perfect place to play, splash, enjoy dinner with your spouse, listen to your music, and more!
Relaxation Benefits.
A side effect of our busy lives is that many Calgarians don't sleep very well. Many of us aren't getting the recommended amount of sleep each night, and we often find it difficult to fall asleep at night. Turning off your electronics and slipping into the warm embrace of your hot tub is a great way to help your body relax and get ready for sleep. Try dimming lights in the bathroom and listen to quiet music or a relaxing audiobook. You'll be amazed by how much easier it is to fall asleep!
Canadians are famous for our winters, but just because it's cold outside, doesn't mean we have to freeze! Create your perfect oasis. Call RnR Hot Tubs and Spas today.