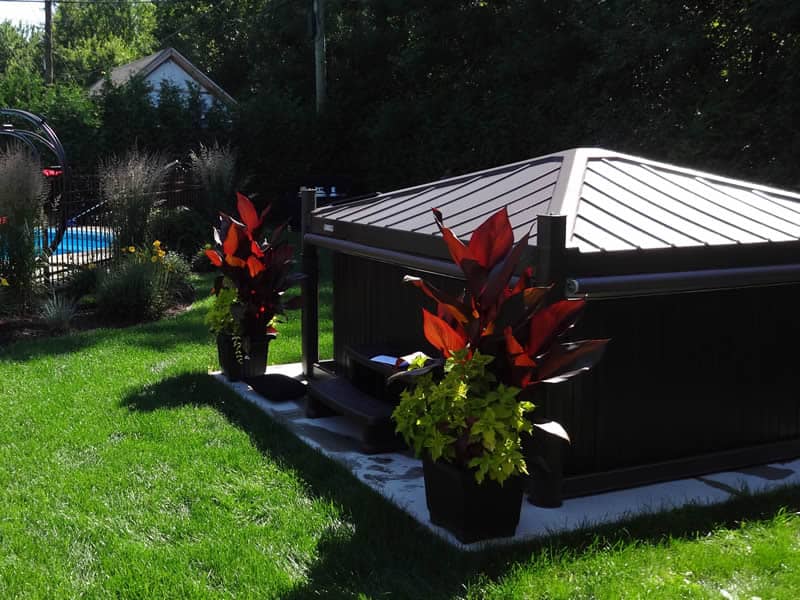 There are few things we enjoy more than our backyard oasis and a soak in the hot tub. But if you're like most Calgarians, you'll find it hard to relax when your neighbour can just glance out their kitchen window and see you (or your wife) in a swimsuit. Whether you use your spa as a zen getaway from the world or your teenaged daughter is inviting her friends over for a hot tub party, you probably don't want your neighbours peering at you and your family. The experts at RnR are here to help!
Covana
The Covana product is something we've already discussed a lot in the past, but it's so fantastic that we're going to talk about it again. Covana is a Canadian made hot tub cover with no fear of ice and snow. Simply, insert the key and let the cover automatically lift itself into a roof for your spa in mere seconds. Not only is it one of the best covers for Canadians as it offers some of the highest standards of insulation. It also provides privacy and comfort. Easy to use blinds can be pulled down and adjusted to create the perfect balance between lighting and privacy.
Cedar Gazebos.
If you're looking for an elegant, wood accent for your yard, then cedar gazebos are a great option. Each gazebo is handcrafted in our shop right here in Calgary. We understand that Calgary and Canada in general has harsh, extreme weather both in summer and winter, so we believe it's important to create a durable, beautiful product built with our climate in mind.
When it comes to adding privacy to your spa, there are numerous options. You may want to have your hot tub indoors, or you could decide to close in your porch. Regardless of what you choose, the professionals at RnR are available to help you install your spa and any accessories that go with it. If you choose a covana cover or gazebo to go with your hot tub, we'll happily install that for you as well! To learn more about whether a cedar gazebo or covana cover appeals to your aesthetics and meets your needs, contact the experts at RnR today.