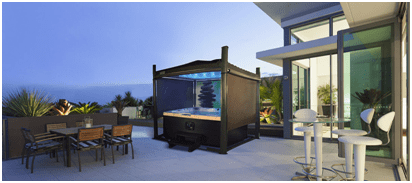 While the experts here at RnR Hot Tubs and Spas recycle and refurbish used hot tubs, not all companies do. Across North America, old ceramic and plastic shells of spas can be found in so called, hot tub grave yards. Unfortunately, your hot tub cover doesn't have that same longevity, and it'll likely need to be replaced within 5-10 years.
If your hot tub cover is starting to get old, you'll likely notice it's feeling a bit heavier than usual. Over time spa covers can begin to soak up water and become so saturated they're difficult to impossible to lift. If you debut as a heavy lifter, you might not find the extra weight a challenge, but the seams of the cover can still tear and rip the cover in two. If your spa cover is getting heavier and is over 5 years old, you may want to consider buying a new one.
Our Favourite Hot Tub Covers.
Here at RnR, you'll find a variety of covers to meet your needs and budget. However, our favourite hot tub cover has to be covana. These automated hot tub covers provide security, ease, privacy, and energy efficiency in one great cover. The cover lifts into a gazebo ceiling with the twist of a key, and the easy to use blind allow you to adjust how much light and privacy you'd like. Plus, Covana is a Canadian company who is dedicated to creating the perfect cover for tubs in the Great White North. This is one spa cover that has no problem with snow!
Cover Care Products.
If you want your cover to stay in perfect condition for longer, we offer a few great products to help you do just that. The Hot Tub Winter Cap Cover is tough and durable. It'll help protect your cover from the constant freeze-thaw cycles we Calgarians are so familiar with. Available in both black and silver, we have so many customers that swear by these caps. Give one a try today!
For the warmer months (or just before you put on your cap cover), SPA LIFE Cover Care is a cleaner and protector. When used regularly, it helps to protect your cover from UV damage. Another favourite with customers is SPA LIFE Spa Cover Refresh. While not a protective product per say, Cover Refresh helps to deodorize your spa cover and eliminates any nasty odors that have build up.
When it comes to taking care of your spa and its accessories, our team at RnR is here to help! Our experienced professionals can help handle installations, repairs, maintenance, and anything else your hot tub requires. If you want to learn more about covana or spa covers in general, contact our experts today at (403) 203-0860!