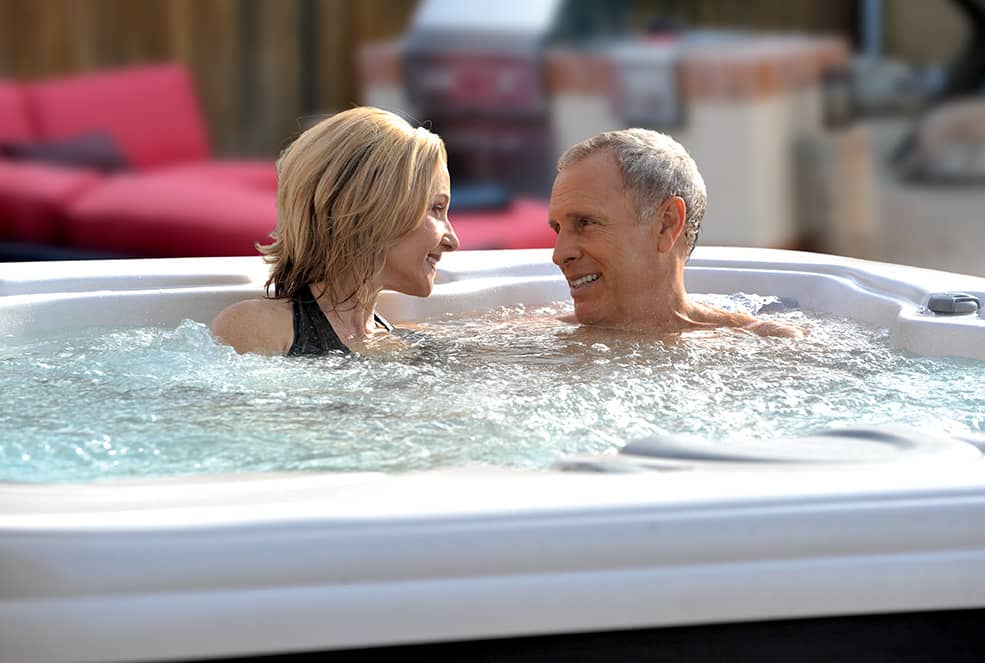 At RnR Hot Tubs and Spas, we pride ourselves on offering Maax Hot Tubs. For us, hot tubs are a place for you and your family to relax and unwind from a long day, but they're also a place to exercise, enjoy a massage, and be present with those who matter the most to you. Given these important roles, we strive to only offer Calgarians the best hot tubs available, and we honestly believe that Maax spas are a step ahead of the rest.
Lifetime Insulation Warranty.
Just one of the ways Maax is leading the industry is with their Thermo-Lock™ insulation system. Made from recycled natural fibers, their eco-friendly 'BlueMAAX' insulation contains no chemical irritants and is approved by the U.S. Green Building Council. It is treated to be resistant to mould, mildew, fire, and pests, and it comes with a lifetime warranty. Pushing boundaries to create the highest quality, environmentally friendly products is just what you can expect from Maax.
Cleanzone 1 and Cleanzone 2.
You bought a hot tub to enjoy the warm embrace of the water, so we're going to bet it's fair to say you'd like to spend more time in your spa and less time cleaning it. Maax understand this, and that's why their hot tubs are compatible with two state-of-the-art water cleaning and sanitation systems. Around the world, ozone (O3 (g)) and UV light are used to sanitize drinking water. These methods are prefered because they are both extremely effective and completely harmless to humans.
UV light treatment, for example, amounts to shining high energy light on the water. The same energy responsible for giving you a sunburn when you spend too much time outside sterilizes the water. But, since the light isn't shining directly on a person, it's harmless to people. Both UV light treatment and ozone treatment are put to work in your hot tub, and together they destroy 99.9% of all bacteria, virus, and other microbes.
Long Lasting Steel Frame.
A hot tub can be expensive, so it just makes sense that you'll want your spa to last as long as possible. Maax is committed to creating durable, lightweight frames that can handle Canada's winters and last for years. In fact, Maax is so certain that their frames are built to the highest quality that they offer customers a lifetime warranty on their steel frame models. When you buy a Maax hot tub, you can feel confident that it won't be falling apart anytime soon.
At RnR Hot Tubs and Spas, we love hot tubs too much to offer Calgarians anything less than the best spas on the market. To learn more about Maax's outstanding warranties or to schedule your wet test, call the Calgary hot tub experts at RnR today!