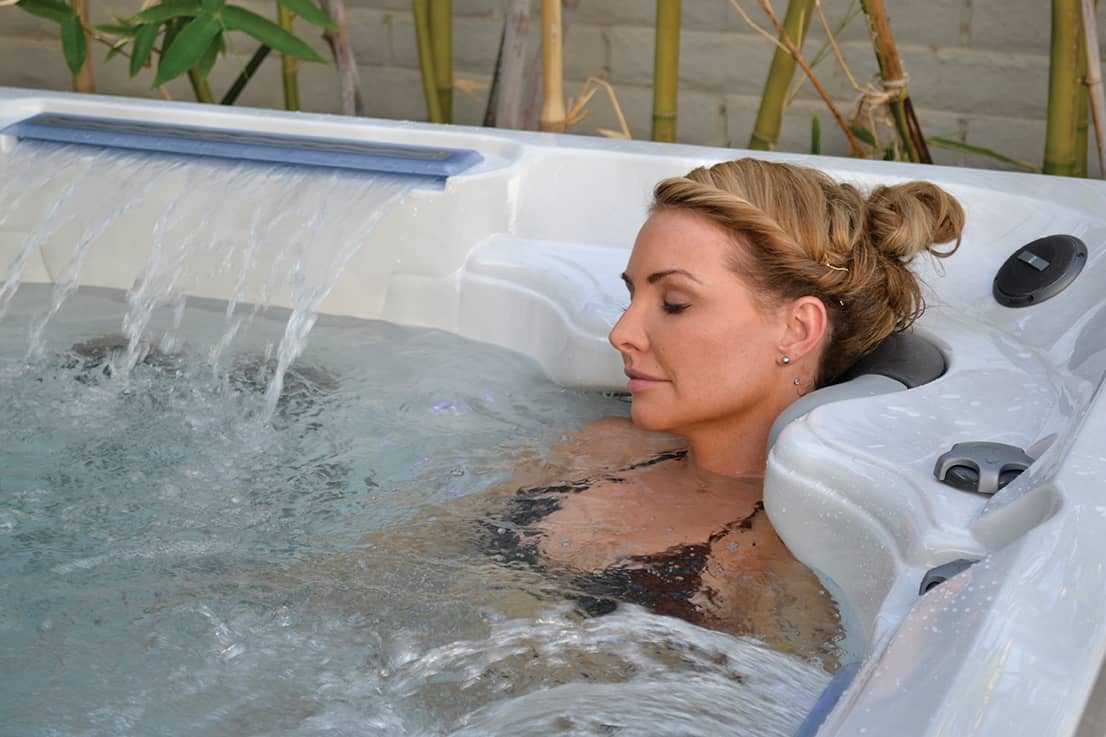 This year, RnR Hot Tubs has been fortunate to have a fantastic selection of new tubs for Calgarians to come try. When it comes to buying a hot tub, there are numbers to crunch and decisions to make about budget, priorities, and more. But choosing your new hot tub isn't just work with no play. During a wet test, you'll come to our location and actually take a soak in the spas you're considering. Wet tests are a ton of fun, but they are also an important part of making an informed decision about which tub is the best fit for you.
MAAX Collection 380 & 381
These great tubs are 8 feet long and offer lots of space and seating for the whole family, and a of couple friends as well! Comfortable and packed with a generous amount of jets, the MAAX 380 & 381 come with a list of fantastic standard features like a foot massager, a shiatsu massage seat, programmable filter cycles, and more. Of course, you can also personalize your hot tub by choosing additional optional features like the CleanZone™ & CleanZone™ II UV Systems which reduce the need for chemicals while simultaneously helping to keep water sterilized and healthy with far less work. These hot tubs also come in a variety of colours to match your yard, and pairs perfectly with the covana cover, which is made in Canada to bring luxury to the specific climate needs of the Great White North. A wet test at RnR will let you get a feel for this spacious spa, so you can decide whether it meets you needs.
MAAX Collection 480 & 481
Like the 380 & 381, the MAAX 480 & 481 are both 8 feet long. However, these upscale hot tubs comes with even more higher end features. For example the CleanZone™ System, which is option on the 380 & 381, comes standard for both the 480 & 481. Other features like the comfort collar, head cushions, and the foot zone help to maximize your comfort. Options for the 480 & 481 include the CleanZone™ II UV System, an MP3/Bluetooth Sound System, colour choice to match your home or yard's aesthetic, and more. We encourage any Calgarian considering the 480 or 481 to come down for a wet test. There's nothing like actually soaking in a spa to try out the features and decide which options are best for you.
Choosing the Right Company
Perhaps just as important as scheduling a wet test to try out your hot tub before you buy it, is ensuring you purchase your spa from the right company. You'll want to buy your tub from a reputable hot tub and spa business that's been around a few years and known for their service. Otherwise, you may find no one available to service your spa or honour its warranty if things go wrong. We suggest working with a company that makes you feel welcome, encourages you to take your time with your decision, and offers a variety of great services. At RnR Hot Tubs, we offer clients monthly maintenance and 50 point inspections, be we also provide parts and support for any DIY repairs you may want to tackle yourself.
When it comes to choosing the right hot tub and the right hot tub company, choose a business that you know respects your priorities and needs. Our number one concern is your satisfaction, so we'd love to hear from you if you have any questions or are ready to schedule your wet test. Contact us today!