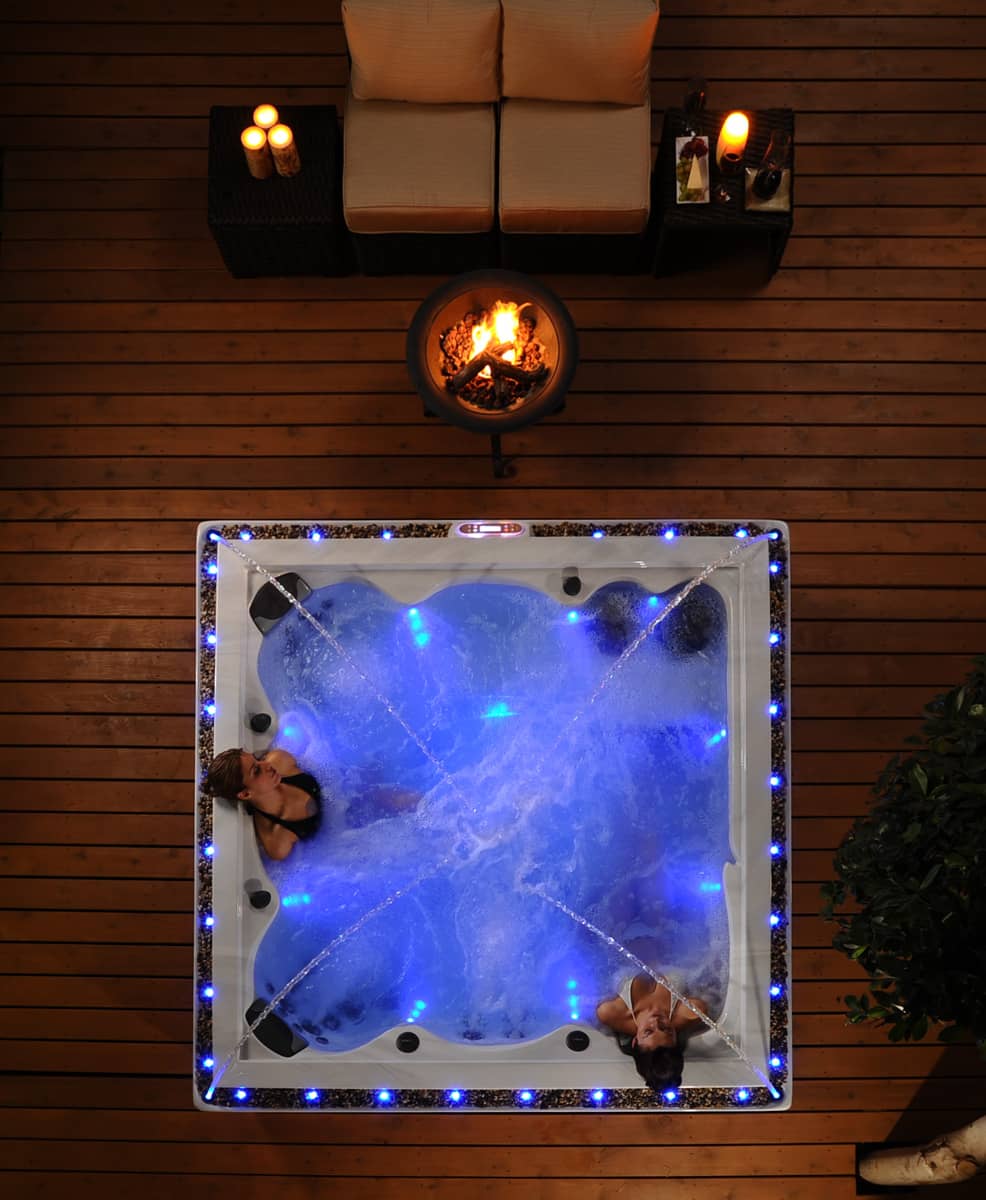 At RnR Hot Tubs, we always recommend coming by our location for a wet test. During your wet test, you get into your swimsuit and have a soak in the tub you're thinking about buying. But not everyone wants to just soak in their tub. To narrow down the hundreds of available tubs to the two or three that best suit your needs, it's a good idea to work with local hot tub experts who can make suggestions based on your priorities. For example:
Vita Spa Envie is a favourite hot tub among young Calgary families. The long bench seating provides room for friends and a shallow area for kids to walk around. With lots of space in the middle of the spa, there's plenty of room for legs and feet, and many families report their kids even enjoy practicing swimming and floating in their spa. The colour changing underwater lights are always a hit with the young people as well. For the older folks, the lounger gives both adults and teens the opportunity for top-to-toe massage any time they want it, and the MP3 music system with bluetooth and built in subwoofer are sure to keep your teenagers happy.
The MAAX Collection 311 is a great starter tub for any Calgarian. At a little under 7 feet square, it can comfortably seat 6 adults and is easy to keep clean. The 311 is also simple to set up, and can be used as soon as it's placed and plugged in — though we'd give the water some time to heat up! If that wasn't enough, the 311 is also a high-value spa with an affordable price tag that most Calgarians can fit into their budget.
The MAAX Collection 811 is a fantastic workout hot tub. Many Calgarians, due to arthritis, chronic pain, or personal preference, prefer to exercise in water. A private hot tub, in the comfort of your home, is the ideal place for many Calgarians, as you won't become chilled or feel like you're performing for an audience in the public pool. The 811 comes with a grab bar for training, has a number of great fitness accessories such as a tether for rowing and strength training, and an MP3/Bluetooth Sound System so you can listen to your music as you workout. And, once you've earned a little break with all your hard work, you can enjoy the 811's massage features.
When it comes to choosing the best hot tub for you, it pays to talk with the experts. We've worked with thousands of hot tub owners, so we have a ton of great advice about which tubs work best for what activities. If you have a specific use in mind for you new spa, come into RnR Hot Tubs and Spa today. We'll be happy to point you in the right direction and schedule you a wet test!