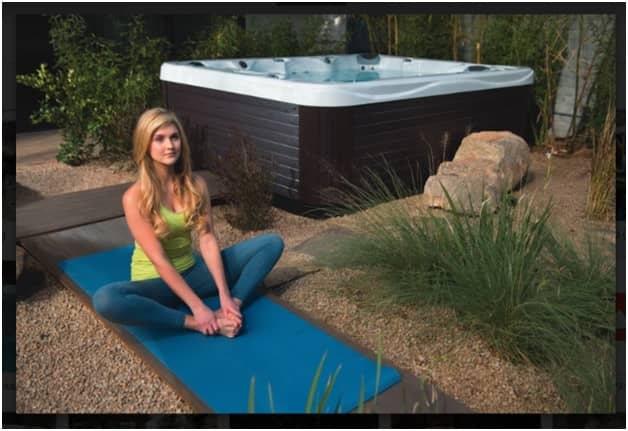 It's November, so if you ask any Canadian, a trip to Florida or Mexico probably sounds pretty good right about now. But whether you're weathering an Albertan winter or preparing for summer vacation, there's something pretty great about not going anywhere. Here are just a few ways having a staycation in your hot tub is better than flying somewhere exotic.
No Crowds.
Spending a week lounging on a beach somewhere in Hawaii is great, so great that thousands of other people are also planning on doing exactly that. Depending on your particular circumstance and personality, all that company might be well wanted. But many of the Canadians we talk to would prefer to have some privacy and some peace and quiet when they're on vacation. Your very own hot tub offers exactly that. Our covana hot tub covers lift from the spa to become a gazebo roof at the press of a button. Need more privacy? Covana comes with easy-to-use blinds that can be adjusted to the perfect height. Plus, there's no line up for this hot tub!
No Flying or Shots.
Whether you've booked a vacation in Costa Rica or any other central American country, it's a toss up whether the flight that goes on for hours and hour or all the pre-vacation vaccines before you leave are worse. Many of Canada's favourite vacation spots come with threats of malaria, hepatitis, and most recently, zika! At RnR, we can't think of any start to a vacation much worse than spending 5 or 6 hours cooped up in an airplane or getting poked with needles. Needing to wear long sleeves continuously in order to avoid the incurable zika doesn't sound like any fun either. We'd rather stay home, sip a glass of wine, and relax in our very own spa if it's all the same.
Unlimited Vacation!
The worse part of any vacation is the trip back home. You have to unpack all your things and get ready to return to work or school. But when you have your own spa, every night can be a vacation! Treat yourself with a relaxing soak before bed. Let the calm waters lull you to sleep and sooth any aches from work. You deserve to relax for more than a week once a year!
At RnR Hot Tubs, we believe that Calgarians are some of the hardest working people in Canada. You deserve to have a private place to get away from the stress and anxiety of work. And your very own hot tub is the best place to do that. Call us today at 403-203-0860.