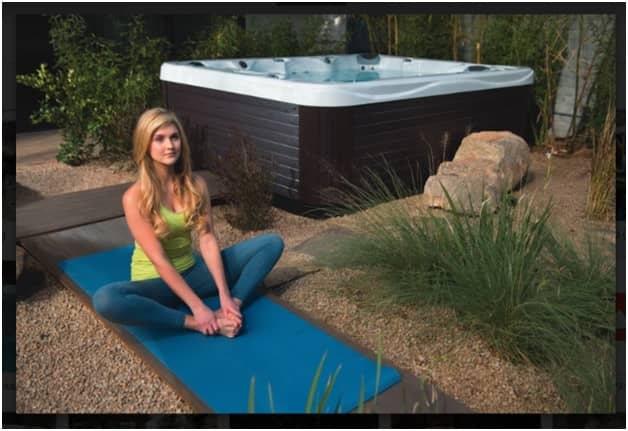 While at first glance a hot tub may seem pretty simple — have a large container and apply hot water, there's a lot more going on in your spa than a bath. Your new hot tub is technologically powerful and can communicate with your phone and devices to help you get the most out of your spa. Whether you want to be able to remotely access your hot tub, play your tunes from the internal music system, or benefit from the cleanzone system's automatic maintenance, you'll love the newest generation of smart spas.
Bluetooth Connectivity.
Your spa provides you with the unique opportunity to create whatever atmosphere you need. After a stressful day of work, you can slip into warmth and let the water hold you as the weight of your problems falls away. Close your eyes, connect your smartphone's playlist to your hot tub, and soak up your favourite mozart masterpiece as you take your first calm breath all day. Or, if you're looking for a little more excitement, change the mood to a sexy salsa and invite your spouse into the spa. Or show your teen how to connect their playlist and let them have a hot tub party with their pals. Just make sure to remind them to keep their phone safe from the splash zone!
Wireless Connection.
There are few things more unpleasant than going outside in the middle of December to prep your hot tub for a soak. But with a wifi enabled hot tub, you can access your controls remotely from inside your home or even from your place of work, so your hot tub can be primed and ready for you at a click of a button.
Cleanzone System.
If there is a universal truth about all spa owners, it's that they want more time soaking and less time maintaining. The cleanzone water purification system is the answer. This fully automatic system works to disinfect and clean in order to maintain perfectly clear, healthy water. This means more time enjoying the warmth and fewer chemicals and filter changes. Best of all, the cleanzone doesn't require any maintenance itself, so you're literally just saving time.
Today's hot tubs are a lot more than just a big container with some jets and warm water. Technology has only improved the latest spas, so whether you like Beethoven, Bieber, or the Beatles, you'll be able to create exactly the atmosphere you want within the comfort of your home.