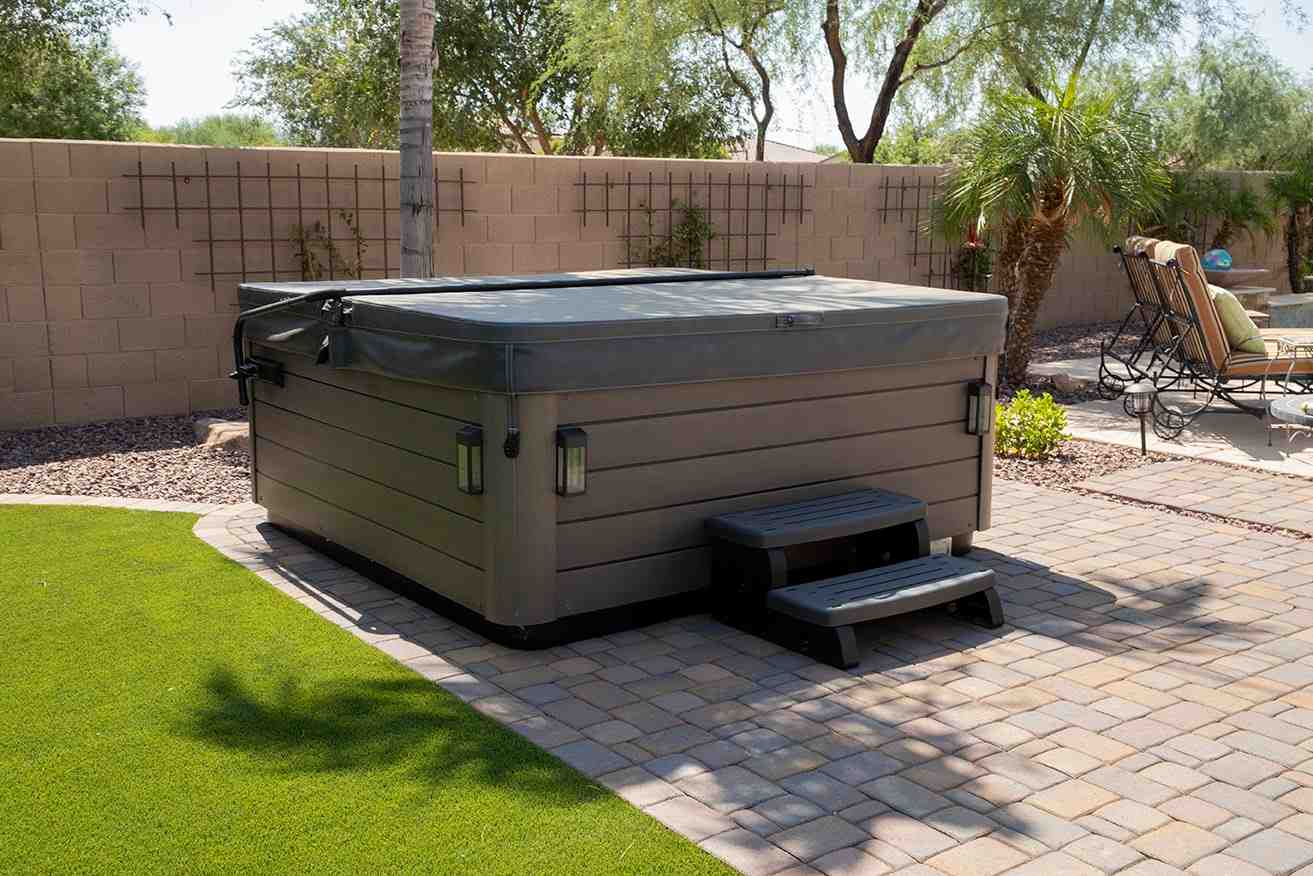 A hot tub cover is an essential piece of equipment, keeping dirt, debris, animals and small children out of the water while retaining heat. It requires regular cleaning and maintenance to ensure its longevity as it's exposed to UV rays, rain, snow and ice. If not properly cared for, your lid will crack and fade. Following are some tips to help you get the best life from your hot tub cover. 
Inspect your cover:
Once a month, inspect your hot tub lid. Look for rips, tears and wear. These marks can allow moisture to build up causing mould growth. Repair using clear packing tape, duct tape or a vinyl repair kit. 
Clean your cover: 
Once a month, remove your cover from your tub and lay it flat. 

Using moderate pressure, gently spray the underside with a hose to rinse away any hot tub chemicals or body oils.

Flip it over and spray away debris (leaves, grass, bugs, etc.) 

Spray the top of the lid with a vinyl cleaner such as

303 Multipurpose Cleaner

. 

Using a cloth or soft-bristled brush, gently scrub away dirt and grime. 

Rinse to remove all traces of the cleaner, then wipe with a soft absorbent cloth or towel. 

Leave to air dry. 
Protect your cover
:
Each time you clean your hot tub cover, finish by applying a quality UV vinyl protection spray such as 303 Aerospace Protectant. This will prevent the cover from drying and/or cracking. Apply extra product on seams or low spots that puddle water.
Other tips
:
Tree sap can be removed by rubbing with a little vegetable oil or margarine.

Use a tarp to protect your hot tub cover in extended times of non-use.

Occasionally take the cover off your hot tub and unzip the zippers on the end. Let it dry out for a couple of hours. 

Prevent mould or mildew build-up by opening the cover regularly to let your hot tub water breathe.

Regularly clear snow from your hot tub cover with a broom or a brush.

Keep your hot tub balanced as damage can be caused to your cover by over-chlorination/bromination, excessive ozone contact, or imbalanced water chemistry.

Don't sit or walk on your hot tub cover.

Never use detergent-based soap, alcohol products, dishwashing soaps, abrasives or any cleaning products containing bleach on your cover.
Regular inspection, cleaning and conditioning of your cover is important for its longevity. Give your hot tub cover a little attention and it will serve you well for years.
Thinking of purchasing a hot tub? Need a dealer that can provide information, training and advice? Our experts are here to help. We carry brands including American Whirpool, Vita Spa, and more. Owned by service professionals with over 30 years of experience, we help make your hot tub purchase exceptional. Please call 403-203-0860 to set up an appointment.