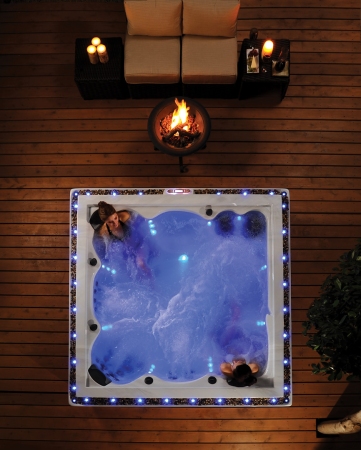 Do you enjoy hanging out in your backyard at present? Is your back deck an area where you frequently entertain guests or simply spend quality time with your family? If not, you might think about expanding your property's leisure spectrum by installing a premier hot tub!
When considering the hot tub you'll be installing on your property, there are many factors to consider, such as size, depth, placement of jets, and much more. However, you can maximize the effect of your new hot tub by thinking of it, and its' surroundings, as your own personal oasis.
When designing the setting for your new hot tub, you must consider the details that will help you make the whole area relaxing and inviting. If you're thinking of installing a new hot tub in the recent future, here are a few recommendations to help you create your own hot tub oasis:
A Dunk for the Dramatic 
No backyard hot tub oasis is really complete without a small touch of the dramatic. Creating a shady, secluded area for your hot tub can add the feeling that the hot-tubber is in his or her own secret garden. A relatively small patio might only need a few large-leaved plants or vines to create a charming atmosphere.
On the other hand, a large, open backyard might require a bit more work to create this dramatic touch, but planting a few palms or willows is a great, cost-effective way to create a screen that will last the lifetime of your hot tub, and beyond. 
Seating Standards 
In designing your outdoor hot tub oasis, you must consider how you'll situate seating around the hot tub itself. While some guests might not necessarily wish to dip into the hot tub, it's also nice to have a spot to sit and enjoy a warm summer night after you've gotten out of your hot tub.
A weatherproof outdoor sofa or loveseat might be perfect for a single couple, while a couch and a combination of outdoor chairs could be the perfect solution for the whole family. If you want to make sure your hot tub oasis has an all-inclusive vibe, make sure seating for those not dunking in the tub is close enough for them to be part of the conversation. 
Wild and Whimsical 
Creating an outdoor hot tub oasis is largely about inviting in the wild and whimsical. Your goal should be to create a space where even your neighborhood squirrels, blue jays, and hummingbirds feel comfortable. Picture your own personal jungle paradise and don't be afraid to plant brightly colored flowers and set up hummingbird feeders to attract a few pleasant, wild companions. 
Lounge in the Light 
Once the sun goes down, lighting is an essential component to the overall atmosphere of your hot tub oasis. Twinkling lights are capable of setting an inviting, comfortable mood. With that being said, it's important for you to exercise creativity in the lights of your oasis. Tiki lamps, Christmas lights (seasonally), or lanterns are just a few of the more creative options you might consider. Candles are also often used to set a relaxing tone throughout your backyard hot tub oasis.
If you're interested in exploring the options for premier hot tubs in your area, please don't hesitate to give the experts at RnR Hot Tubs a call at 1-403-203-0860 today to discuss your individuals needs and preferences!