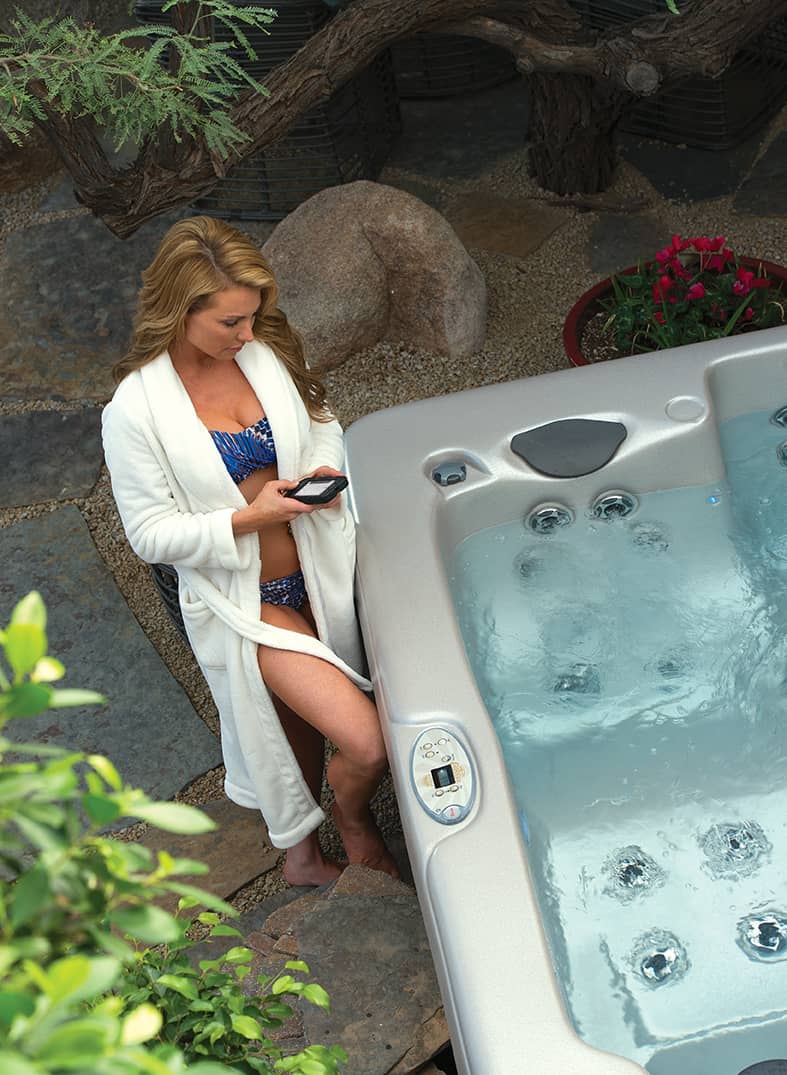 When it comes to hot tubs, there are so many great features, accessories, and add ons that it's almost impossible to decisively say which are our favourites. At the end of the day, the top hot tub feature that appeal to you may be very different than the must-have spa accessories of your neighbour. Regardless, today we're going to highlight 5 hot tub features and accessories that we haven't written much about but that we think are pretty great.
Steel Frame.
Here in Alberta, steel frames are probably your best option. While metal that is constantly exposed to high humidity can rust, the Albertan climate is generally fairly dry. With proper maintenance, you WILL benefit from the strength of the metal frame for years. Don't believe it? MAAX is the only company offering an industry lifetime guarantee on their steel frames.
Spa Caddy.
One of our favourite hot tub activities? Cuddling with the spouse while you share a cool drink can be a wonderful way to connect. The spa caddy offers a large stable surface where you can safely place your drinks while you chat, relax, and connect.
Underwater Light.
If you have teens, you'll likely find this underwater light is especially popular with the under 20 crowd. It projects lights and colours throughout the spa and turns your entire hot tub into a disco ball. No teenage hot tub party is complete without one!
Therapy.
Our MAAX spas provide Calgarians with the space to explore numerous therapies such as massage, chromotherapy, and aromatherapy. Some hot tubs come with built in lights to allow you to shine specific light frequencies (colours) on your skin. Some people find that bathing in these different coloured lights helps them to achieve specific emotional states. Alternatively, seek relaxation with aromatherapy. Light scented candles or burn incense to help you relax. Close your eyes, enjoy the warmth, and breathe in your favourite scents.
Massage.
Whether you live with chronic pain or just enjoy a good massage, the right hot tub can help! At RnR, we carry MAAX hot tubs and spas who focus on providing Canadians with exceptional products which include built in spa therapies. Hydrotherapy and massage can help to ease the discomfort of chronic pain and may help injuries to heal faster. There are many options for massage, so book a wet test to try a variety of tubs with air jets, water jets, and a combination of the two. Plus if you're looking for a unique massage experience that can help with aching shoulders or feet, we suggest trying the MAAX signature neck collar and foot zone.
Your priorities are going to determine which features are important to you. If you're looking for a quiet oasis to unwind in after work, your needs will be very different from a retired senior who wants a hot tub they can exercise in. This is why it's a good idea to come by RnR Hot Tubs and Spas. Our experts can listen to your needs and point you towards tubs that suit your particular wants. And of course, don't forget to book a wet test to really try out the spas you're considering! Call RnR today to get the advice you need.