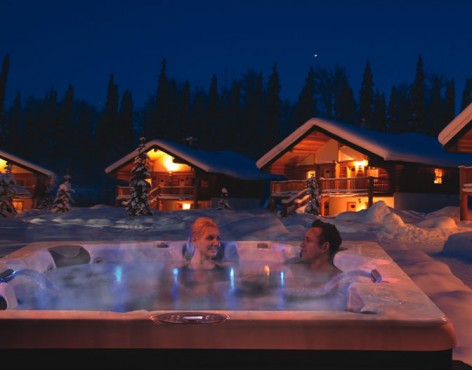 If you plan on being away from home for extended periods of time, winterizing your hot tub as outlined in our recent blog is always a good idea. Let's say, however, you're at home during those cold winter months but your tub manages to freeze over. Firstly, don't panic! Just follow this simple recommended procedure.
Heat Things Up
Before thawing and draining your system, disable the power at the circuit breaker. You don't want any electricity running while you're in the process of heating things up. The most common way to thaw your equipment is with a portable space heater. Set it in the compartment that houses your pump and make sure it's facing the inside. Be sure not to leave it unattended!
If the surface of the water on your tub is solid, crack it open at the center with a sharp tool. Whether it's through a hose from your kitchen sink or using large containers, pour hot water through the hole you've created to bring the temperature of the water back up. As everything continues to melt, drain the tub completely with a shop vac. Finally, you'll need to empty your system so that it's entirely free of water.
What's the Damage?
This can be a tense moment, as pump or filter damage are not a pretty sight. You won't want to miss anything, so check everything from the wet end to the heater body as thoroughly as possible. Pipe damage won't be obvious, so inspecting carefully with a flashlight for small cracks is always a good idea. To be on the safe side, damage assessment from an expert is the most effective measure you can make and gives you the best peace of mind.
Preventative Measures
Of course, the only thing better than a successful thaw and inspection is preventing the damage in the first place. Hot tub owners often forget a few key considerations in keeping things running smoothly during the winter months. Many hot tubs have freeze prevention functions, but if yours does not, never forget to keep your pump running and the water hot and in motion when temperatures go down. If you're planning on leaving town, don't forget to winterize!
Need repairs? With nearly 30 years of experience, RnR is a company you can rely on to provide you with the highest quality care for your equipment. Give us a call today at (403) 203-0860 to schedule an inspection!