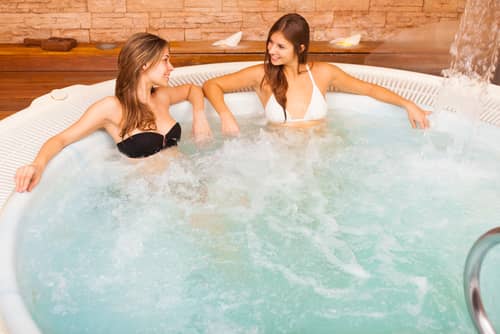 Leisure is a big industry, so when you've decided it's time to let loose and treat yourself to some proper relaxation time, there are a lot of options out there. Taking a vacation is one of the most common, but is it the best way to invest in your relaxation? Let's find out why a hot tub may be a better idea.
Your Time, Your Space
Depending on the destination, a vacation can add on as much stress as it's meant to unload, whether it's uncomfortable transit or making sure the kids are always safe and in sight. One key factor, however, is privacy. Time to yourself should be spent in your own space. A hotel and its pool or spa areas are nearly always occupied by groups of fellow vacationers. This can make it a bit difficult to have a truly solitary moment. Investing in the right spa for your home, surrounded by a comforting and private backyard environment, can be far more rewarding.
Family and Friends
Sometimes, however, you may have spent a little too much time working diligently on your own or with coworkers, and time spent with loved ones is what you really need. This is the other upshot to a great home spa environment. Quality time with your spouse or kids — or even a small get together with a couple of friends — can be done far more easily and without having to board a plane!
Thinking Long Term
It's important to consider which one of these investments gives you more bang for your buck over time. A vacation that lasts only a couple weeks may set you back quite a bit of money in airfare, accommodation, food, and activities. Depending on the trip, the same amount or less could be spent on putting together the perfect spot in your very own home, that will allow you to unwind whenever you like without the added expense in time or money. With a dedicated local expert at your service, your spa won't be just a two-week occurrence, it will last you a lifetime.
As a long-running family-operated company, RnR understands the importance of quality time with loved ones in a stress-free environment. Give us a call at (403) 203-0860 today and we'll make your home into the getaway destination you don't have to go away for!