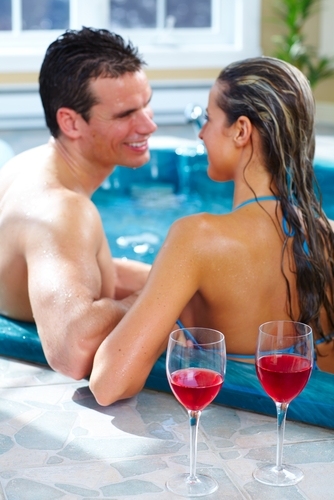 Valentine's Day is one of the most popular days of the year for romantic spa outings among couples. The downside to these is that they can add up and become a bit pricey. So how about expanding the uses of your own hot tub for a romantic night in?
The Importance of Treating Yourselves
Whether you've just moved in together or have been married for years, the responsibilities of adult life can create a strain on a relationship make make it difficult to maintain that youthful sense of adventure. One of the best ways to address this is to improve your mutual sense of well-being. The research consistently shows that the effect of one partner's happiness on the other is profound, so once both of you are able to keep your stress in check and feel at ease, the rest will follow. What better way to do this than to treat your partner to true relaxation and bliss during the most romantic day of the year?
Getting the Mood Right
The first step to making sure there is romance in the air is to establish the mood. Your hot tub area shouldn't just look or feel like its usual self so feel free to get creative with decoration. Light some candles and take advantage of that great sound system upgrade by playing some romantic music. Adding a bottle of champagne can really do the trick when it comes to ambiance, not to mention the decadence of some truffles or other treats. Keep high-quality towels and slippers nearby to make for a comfortable exit from the hot tub later, especially considering the cold!
Letting Yourselves Go
Few things are more accessible and therapeutically effective than the jets in your hot tub. Both you and your partner should take advantage of these to relax and clear your minds of any stress that may be present at work or elsewhere in your busy lives. Indulge in the kind of conversations you rarely have time for, such as reflecting on how you met and what makes your partnership as strong and wonderful as it is. Keeping in touch with the important things as you relax will make for a truly memorable evening!
At RnR Hot Tubs & Spas, we're in the business of relaxation. If you're looking to rejuvenate yourself and introduce some leisurely romance into your relationship with a hot tub, give us a call at (403) 203-0860 today!