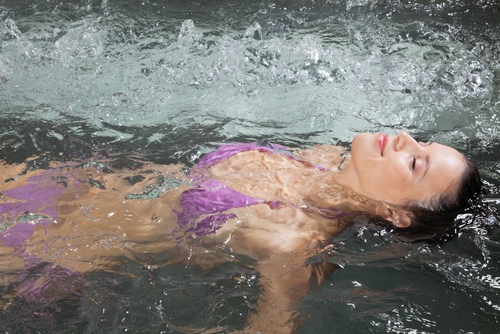 Whether you're a skier or snowboarder, a day on the slopes is sure to leave your body feeling battered and bruised. However, there's no better way to fight off the bone-chilling cold and to rejuvenate achy muscles than by sliding into the comforting warmth of a spa or hot tub. In fact, a soak can be the best way to alleviate muscle fatigue after strenuous physical activity and among other benefits.
It's all about Timing
After a long day of winter sports, many people want to jump straight into their hot tub, but that's actually not a great idea. In order to receive the greatest benefit, it's important to take your time and warm up slowly. And it may seem strange after spending so long out in the cold, but it's recommended to ice sore muscles first, as jumping into the hot water too quickly after physical activity can actually prolong your discomfort.
Chill out and Hydrate!
In addition to giving your body a chance to cool down, remember to hydrate. Hydration is a key component to feeling your best after a day of exercise, it's vital for getting the most out of your hot tub's restorative potential. When you don't drink enough water, your body has to spend energy trying to cool itself down instead of healing the small muscular tears sustained from exercising. Because of this, your sore muscles won't be able to experience any of the many benefits of soaking in the glorious heat.
Soak up Bliss
After allowing a half hour to cool down and hydrate, you're finally ready to enjoy a relaxing and restorative soak in the hot tub. Let the warm water release the tension built up in your muscles and the massaging jets soothe your aching body. The hot water will improve blood flow to your muscles and joints as well as relax them, so you'll be ready to hit the slopes again soon!
Soaking in a hot tub or spa is the perfect way to unwind after a long day at the mountains. Call RnR Hot Tubs at (403) 203-0860 today to get the ultimate in winter relaxation in your own backyard.