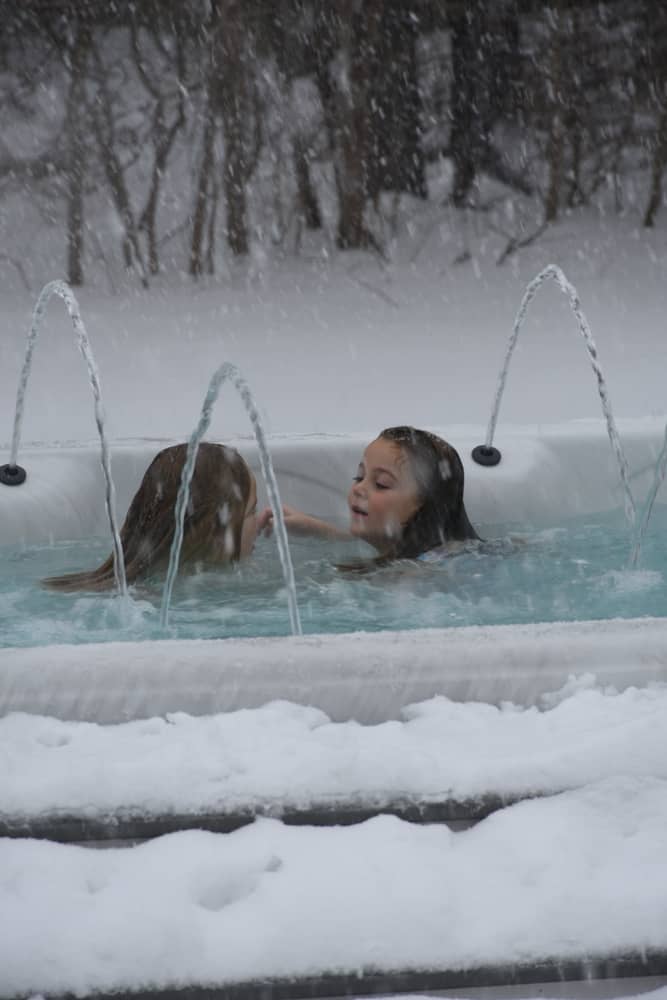 As parents, we try to give out kids everything. We want our children to be happy want for nothing. Of course, this can make the holidays a bit of a challenge. What do you buy for the child that has everything? Well we may be a bit biased, but at RnR Hot Tubs and Spas, we feel confident in saying that what your kids really want is a hot tub.
Now, we're sure you're lightly snickering to yourself at the very idea of your preschooler or teenager wanting a hot tub, but hear us out. Once you take a second to think about it, we know you'll agree that a hot tub is exactly what your kids want.
A Place to Relax and Play.
Canadians of all ages are more stressed out than ever. Elementary students have more homework than they did a decade ago, and it seems like everyone has at least 3 extra curricular activities to drive to and from as well. For younger kids, a hot tub provides a safe place to get away from the bustle of city life. They can bring a couple rubber duckies and just splash in the water or show off their newest swim stroke. Your teen, on the other hand, may benefit the most from having a silent retreat before bed. Many Canadian teens struggle to get the recommended amount of sleep. Shutting off their screens and heading for a soak in the spa may be exactly what your teen needs to start sleeping better.
A Fun Place to Party.
Whether your child's idea of a party includes pretending to sip tea at the bottom of the hot tub or something a bit more rambunctious, kids and teens love sharing their hot tub with their friends. Most kids adore swimming and floating in the water, so a hot tub party is an easy way to appease the youngsters during a sleepover. And, if your younger child is trying to overcome a fear of water, spend every night having a pleasant soak in the spa is a great way to show them how fun and relaxing water can be in a controlled environment. There are no loud noises or mean older kids to splash your preschooler in the comfort of your own home. They can slowly overcome their fear of water and start showing off their skills every evening!
More Time with You.
While we know your teen may not want to admit it, what your kids really love about the holidays is spending time with you. Part of ensuring we can give our kids everything they want, is working long hours at jobs that can leave us too tired and stressed out to really appreciate our families in the evening. The hot tub can be a place for your family to bond and spend time together. You get to soak your stress away, and your kids get to chatter about their day. It's the ultimate win-win.
Are you looking for a gift that keeps on giving? Then investing in your very first spa maybe the perfect present for this holiday season. At RnR Hot Tubs and Spas, we welcome you to come try out a wet test, so you can make sure the hot tub you buy is one you love. Come into RnR Hot Tubs and Spas today to find the perfect present for your kids, and from our family to yours — Happy Holidays!