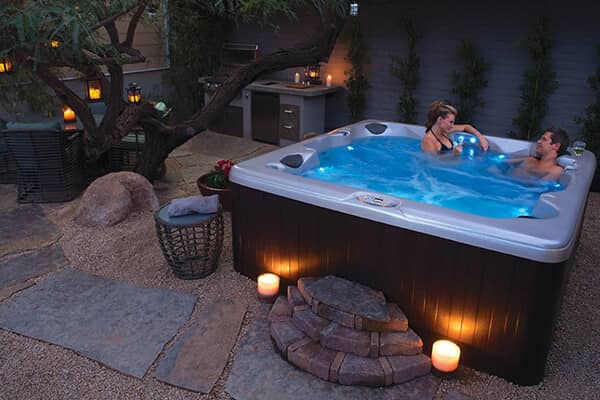 At RnR Hot Tubs and Spas, we're excited to bring in the newest MAAX line of American Whirlpool. These spas have all the latest bells and whistles, and many Calgary hot tub owners are already looking into trading out their old spa for one of these new state of the art tubs.
Relax into a Full Body Massage.
The doctor-designed performance seating offers full body immersion and massage. The seat is designed to encourage proper posture, and every jet is perfectly positioned with just the right amount of energy to ensure superior comfort. Just want your shoulders or your feet massaged? The comfort collar cushions your neck and cradles your head as jets massage your neck and shoulder muscles. The foot relief zones gives fantastic massages to the upper and lower parts of your feet and has been described as a "spa for your feet."
The Best Water Cleansing Tech Available.
We all know that kids end up swallowing more hot tub water than we'd prefer. When you upgrade to an American Whirlpool, you can just laugh along as the kids act silly. That's because the water sanitation system utilized by American Whirlpool is the same tech that sanitizes drinking water all over the world. With the cleaning power of both ozone gas and UV light, you can feel rest assured that the water is sterile and safe for the entire family.
The Highest Quality Everything.
From thinsulate insulation technology, which first made its debut at NASA, to long-lasting and rot-proof steel frames, the manufacturers at MAAX have thought of just about everything. One feature that is a particular favourite with Calgarians who are considering an upgrade is how easy to use the controls are. The simple control panel has large animated buttons that are clearly labeled and intuitive to use.
Are you ready to trade in your older spa for one that is full to the brim with the latest technology and highest quality materials? The experts here at RnR Hot Tubs and Spas are ready to help you find the right tub for you. If you have any questions, the best place to start is by asking the pros, which you'll at RnR Hot Tubs and Spas! Call us today; we're ready to serve.