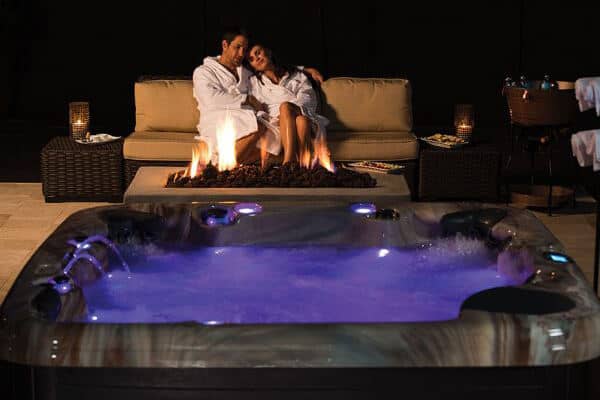 Most of the customers that come through our door have always wanted a hot tub. And we completely understand why! But while it's easy to know that you want a hot tub, which brand and what size are often harder questions to answer. At RnR Hot Tubs, we personally adore MAAX spas, and we've just brought in their American Whirlpool Line. Here are some reasons why we love American Whirlpool, and why we think you will too!
Safer, Healthier Water.
Whenever we talk to parents who are excitedly trying to choose their first hot tub, one of the concerns that comes up is whether the water is clean and safe for their kids. This is a really good question, because many kids end up drinking far more hot tub water than we give them credit for. Fortunately for parents, American Whirlpool boasts having some of the cleanest water. It uses a 4 step cleaning system and features dual sanitization. In fact, the water treatment system in your Whirlpool is used to sanitize drinking water all over the world!
Breathe and Relax.
Your spa is an amazing hub of possibility. You can socialize with your family, exercise, unwind, or even enjoy a massage from the jets. For Calgarians hoping to use their hot tub as their fitness and massage centre, American Whirlpool is a great option to consider. The doctor-designed zone therapy seats have been specifically designed to place the right-sized jets with just the right amount of pressure exactly where you need it most for a soothing massage. Swim spas provide a large deep area where you can perform aqua yoga or just swim against a current for a fun, convenient exercise in the comfort of your own home.
Highest Quality Materials.
Some of the best things about MAAX Spas, including their American Whirlpool line, are their careful attention to details and their dedication to always creating the best product possible. A great example of this is the Northern Exposure Insulation System. Built for life in Canada, this insulation system uses a unique 3 layer thermal barrier technology. The same thinsulate tech that helps to keep your winter boots warm and NASA astronauts safe is being harnessed for your state of the art hot tub. They also have a steel-frame construction with a lifetime warranty, guaranteed to offer no cracking, shifting, or mould.
You've always wanted a hot tub, and why wouldn't you? They're a fantastic investment for your health and your family. Thanks to payment plans, they're also more affordable than ever before. If you're unsure which brand or size of tub is the best choice for you, talk to the professionals at RnR Hot Tubs and Spas and schedule a wet test for the tubs that look like the right fit. We know you'll have questions, and that's why our experts are here! Give us a call today.