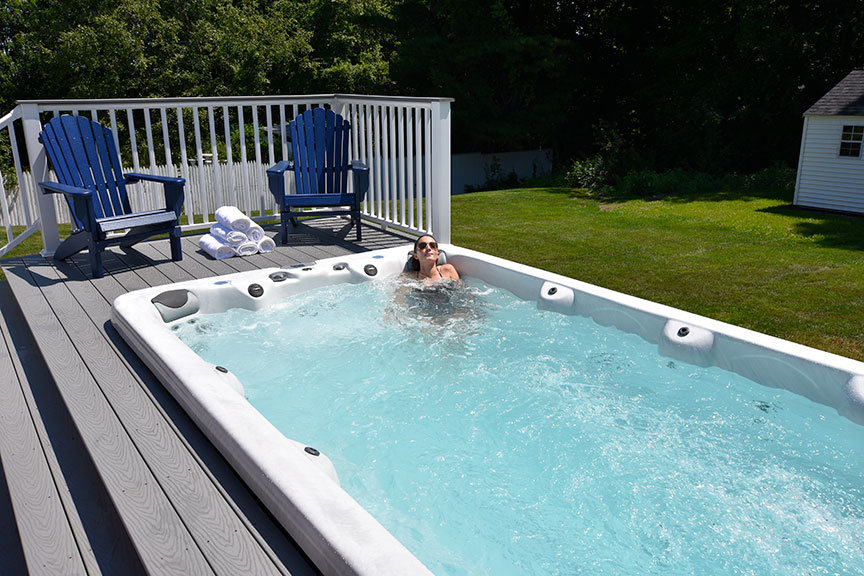 Have you ever considered purchasing a spa for your backyard? There's something deliciously pleasurable about soaking in a hot tub. You can enjoy nature while easing the day's stressors. But there are many more reasons to invest in a spa than the simple act of immersing yourself in soothing waters. The following are more incentives for acquiring a hot tub for your space.
Convenient access to hydrotherapy: Hydrotherapy is the use of water to treat a variety of symptoms throughout the body, providing long-lasting feelings of wellness. It's a great way to reduce symptoms without medication or other more invasive treatments. Spending time in a hot tub is a form of hydrotherapy and can reduce aches/pains, soothe joints, ease muscle tension, improve sleep patterns, speed injury recovery, boost circulation and improve your skin.


Accessible private retreat: Having a hot tub in your backyard allows you to enjoy a relaxed, soothing spa treatment at your convenience. No waiting in line. No monthly fee. No need for an appointment. No sharing your relaxation with strangers. Whenever you have the time and/or inclination, a private soothing, calming experience is available. Free yourself of distractions from technology and/or work. Focus on indulging in your backyard oasis.


An alternative approach to exercise:

No need to drive to the gym or jog in harsh winter weather. A hot tub allows for a new kind of

exercise regimen

. The warm environment of a spa increases blood flow, helps release toxins, improves range of motion and increases your muscles' ability to stretch and relax. It's a perfect support for your health and fitness goals.


Enhancement of your social life:

With

work, school, homework, friends, volunteer commitments and extracurricular activities, it can be difficult to squeeze in quality time with others. Gather with friends, loved ones and family members in your hot tub. Spend time together while enjoying the healing benefits of your spa. Unwind without the distractions of technology. Promote conversation and connection.


Get in touch with nature:

Between work, school and family responsibilities, most of us spend the majority of our time indoors. A backyard spa can change this. Soaking in your backyard hot tub enables you to get in touch with nature, an activity that has many

benefits

. It increases feelings of calmness, boosts endorphin/dopamine production (happy hormones), restores concentration/attention, reduces anxiety/depression/irritability, lowers blood pressure, reduces cortisol (stress hormone) and relieves feelings of isolation.
What are you waiting for? A hot tub is a great investment. There are so many good reasons to invest in a spa!
Considering purchasing a hot tub? Interested in a private retreat that helps you get in touch with nature, improve your social life and provides an alternative approach to exercise? Contact Calgary-based RnR hot tubs and spas. RnR provides comprehensive service, expert knowledge, a wealth of field experience and the best products in the industry to help you maintain your hot tub/swim spa for years of enjoyment. RnR is Alberta's premier hot tub/swim spa store specializing in the world's first steel-framed spas from American Whirlpool, Vita Spas and MAAX Spas. Call (403) 203-0860 or fill out the contact request.